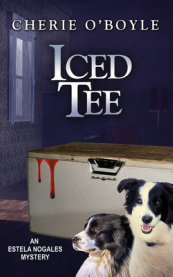 Available now in paperback and Kindle*!

Screams fill the the community kitchen when the freezer is opened, revealing empty cartons of ice cream and the frozen corpse of an elderly woman. Psychologist Estela Nogales and her eclectic collection of neighbors in the village of Arroyo Loco are back, and they snap into action to solve this new mystery!

*If you purchase the Kindle version, please see the Maps page on this site to see the map of Arroyo Loco.

Please click on the cover image to see more reviews or purchase either book,
and "like" the Cherie O'Boyle Author page on Facebook to read more up-dates and news from Arroyo Loco.




---
The house next door explodes in a gasoline-fueled blaze, sending Estela and her friends racing to fight the flames! It's October in California, and the entire canyon is threatened with fiery destruction.

Fire at Will's is the first in the Arroyo Loco series of
mysteries featuring psychologist Estela Nogales
and her irrepressible border collies.




---

Cherie O'Boyle is Professor Emeritus of Psychology at California State University, San Marcos. She now lives in Northern California. When not writing, she is playing with her border collies and taking them to exotic locations in California such as Gridley for flyball tournaments, Galt for sheepherding trials and Lake Tahoe for dog summer camp.

---
"Estela emerges as a spunky character with a wry sense of humor and a astute eye for describing the residents of Arroyo Loco (a moniker that as you read, becomes more apt)."
-Amazon Breakthrough Novel Award Reviewer

"... one of those well-done mysteries that keeps the reader guessing throughout, then when all is revealed, it adds up perfectly and you wonder why you hadn't figured it out for yourself."
-Marilyn Reynolds, author of the Hamilton High series, realistic teen fiction

"Cherie O'Boyle knows how to turn a reader upside down as she weaves a story I couldn't put down."
-Meredith Linden, owner, Editorial Wizard

"The characters are intriguing, many of the lines are very funny, and the mystery is a good puzzle."
-Todd Borg, author of the Owen McKenna Tahoe Mysteries